Long Delays A2 – No Kidding!
There was a time when using a motorcycle between Thanet and London gave travel some predictability but today, the writing was very much on the wall, the "bikers" advantage is almost gone.
Twice, this morning I was forced to double-back from the two main routes into the South side of town and in the end, I had to try and squeeze through the Blackwall Tunnel, setting a new record of two hours before I reached the BMW service centre on the Wandsworth road.
The motorcycle reception has actor Ewan McGregor's BMW 1150 from his "
Long Way Round
" series with Charley Boorman and it's exactly as it arrived back from it's global circumnavigation, marginally more scruffy than my own 1150 but with many more dents, a consequence of Mongolian dirt tracks and Siberia's "Road of Bones."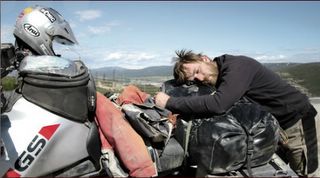 Sitting in the rather more plush-looking car showroom, waiting for my bike to be finished, I watched one young Chinese couple paying in rolls of "fifties." The Black Economy. I thought ,is obviously alive and well under Gordon Brown and I quipped to one of the mechanics that most of South London's drug dealers must pass through the showroom at one time or another. "You may be right", he said.
With time to kill, I wandered off to the Imperial War Museum, good value now Museums are free to the public once again. On the 77 bus back to BMW, I noticed a traffic warden, with his hat hidden from sight, furtively scratching his chin in a derelict shop entrance, his attention fixed, like a predatory cat, on a twenty-minute parking bay on the opposite side of the road. With the bus caught in traffic, I watched him start to write a penalty notice and I knew exactly what he was about to do next.
The rules say that a warden has to stand by the car for at least three minutes and write a penalty notice but common practise is the "walking wait", which removes any chance of the motorist escaping They back off out of sight and then suddenly appear to slap a ticket on the car.
Watching this made my blood boil. Local authorities now employ armies of such people, many of whom come in, claim asylum and are then given a uniform. From being the oppressed, they become in turn our oppressors and there's no sense of fair play in the pursuit of fines. When, I wondered, did we become a society where justice was reduced to the level of a quick-fix revenue opportunity for Lambeth council, where judgement and sentence is arbitrarily dispensed by those with no known background and often barely speak our language?
Back down to Thanet and the road sign displays "A2 Long Delays." It's not far wrong. I had zeroed the odometer on my bike at BMW and it showed 30 miles before the traffic moved any faster than dead stop to a crawl. The length of the A2 was moving at around 8MPH and didn't clear until the start of the M2. It's no longer viable to drive to London from Thanet and with a new congestion charge of £8.00 a day, there's an attempt to price motorists out of their cars. It wouldn't be so bad if the public transport was reliable but it's not. Train prices have risen again to almost £40 return to Victoria at peak times and so, if you happen to live in Thanet, you're between a rock and a hard place. Sit in your car for hours; pay 80 pence a litre for petrol and risk fines and the congestion charge or "Let the train take the strain" and pay through the nose for the privilege.
If we don't sort out the public transport issue soon, then Thanet will lose the professional people it needs to contribute to the local economy, with Faversham or Whitstable being the farthest viable commuting points from London.