Hatz Off
I've been taking advantage of the weather and flying around this morning taking photos over Kent.
First off, before flying towards Hastings and then a coffee at Lydd, was a shot of Chris Knight's "Hatz" biplane with the pilot wrapped-up against the cold. I had to scrape the ice from my own aircraft before getting going.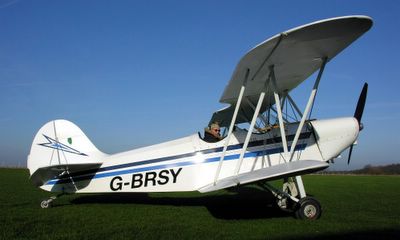 Then is was back over the Isle of Thanet, where I live and which looks set to become another one of the Government's "Housing Hotspots."
You can see from the map that the area between Canterbury and Ramsgate, figures in the government's plans to build thousands more houses, without regard to local infrastructure, such as sewage, roads, schools and above all jobs.
If you drive or indeed fly around the island, as I do, the amount of building is now noticeable. You can see the devastation now taking place in Westgate at what used to be St Augustine's, The Abbey School, where I once taught many years ago. The gardens which once saw monks tending their vegetable plots and bee hives, is now an acre of bare soil, as these and the playing fields have now been ripped-up to the edge of the building to prepare the way for a new estate.

St Augustines, Westgate.

Another school that I attended as a pupil and then as a teacher, was
The Charles Dickens
in Broadstairs. The school appears to be expanding while the playing fields have fallen victim to housing creep over the last twenty years,as you can see from the bottom left-hand corner of the last photograph.
Where will it all end I wonder? As a pilot, I have a bird's eye view of the concreting-over of Southern England and the spread has to be seen to be believed Ashford will, at the present rate of expansion, grow to meet Dover in the next decade and given the increase in global warming, building more houses, in what is a visible flood-plain along the reach of the Medway valley strikes me as complete insanity!

The Charles Dickens School, Broadstairs.