Joe Cool
It's a stunning evening on the beach tonight; the sea is flat calm and trickling in towards the high tide mark. I was walking the dog and listening to my new Creative Zen media player at the same time. Perhaps I should have bought an iPod as a fashion statement but the Zen holds sixty gigabytes – that's an awful lot of music – some of which I've been downloading from MSN or strangely enough, Tesco at about sixty pence a track instead of stealing it from elsewhere, which I easily could.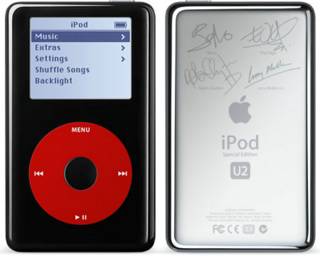 The 'Super cool' and expensive U2 iPod

On the same subject, I finally managed to finish my briefing document on copyright and intellectual property legislation in time for the All Party Internet Group meeting at Westminster on Monday. I won't be there myself as I've been volunteered to chair a policy meeting at the European Parliament building but I hope the conclusions I have arrived at after a series of interviews, rattle a few cages.
At least someone is reading my Weblog. I was pleasantly surprised to receive a ""Get Well" card today, a very kind thought and thank you Pauline, Jeff and Emily. The surgery was an instant success and while I'm not ready to start rock-climbing, I have got 100% more movement in my left shoulder which should improve more with a little physiotherapy.
I'm rather wondering if I'm going to have to go over to Dublin to recover the aircraft back to Kent. My partner hasn't an instrument rating and I suspect that he's going to find it hard to find a day in December, when the route from Kent to central Ireland is free of cloud and bad weather. Personally, the idea of flying across the Irish Sea on a single engine in winter doesn't appeal to me, I'm no Lindbergh and try to keep my flying as sensible as possible these days.